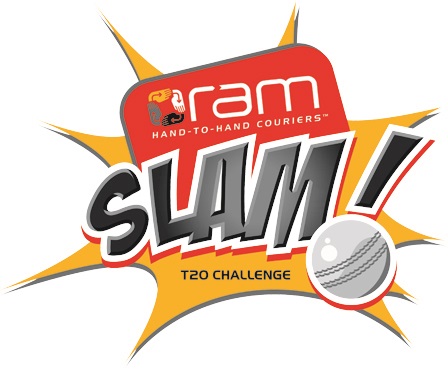 After a long, exciting and highly contested RAM slam T20, the Dolphins have emerged as the 2014 Champions following their victory over the Cape Cobras in the final yesterday. With the World T20 just over a month away, we pick the team that shone the most in the 2014 RAM Slam.
Hashim Amla (Nashua Cape Cobras)
The # was back to his best after a distinctly average series against India. His absence in the final was a huge loss for the Cape Cobras. His 317 runs came at an average of 45.28 but more importantly in this form of the game, he scored them at a strike rate of 143.  The ever reliable Amla will be a definite selection for the Proteas in their World T20 challenge.
Quinton de Kock (Highveld Lions) – wicket keeper
Although the Lions had the unfortunate pleasure of finishing last, more embarrassing when you remember they were the defending champions, Quinton de Kock continued to shine. He passed 50 on three occasions and was able to play at a strike rate of 132. He would be the perfect man up front with Hashim as they create a base on which the middle order could build.
Vaughn van Jaarsveld (Sunfoil Dolphins)
He may have disappointed in the final with a humbling 0, but van Jaarsveld had the kind of tournament that would make the selectors take note. An average of 41 was credible at a good strike rate. His solidity meant that others around him could be more aggressive. Although this sport will in all likelihood be Faf's, Vaughn definitely aided his own cause.
David Miller (Sunfoil Dolphins)
This man can hit a cricket ball further than Chris Gayle. His 93 against the Titans in the semi final was the destructive best innings of the entire tournament. The fact that it came off 37 balls illustrates the level of carnage he brought about. But this appears to be the season he has added consistency to his game. He got 4 scores of 50+  and finished the tournament as the leading run scorer. Now if he can just translate this into International Cricket.
JP Duminy (Nashua Cape Cobras) – Captain
JP is a great player cricketer who has struggled somewhat with his consistency. I see him as a future captain for the Proteas and would love to get him to captain this composite squad of mine. He performed well in his 9 outings and hopefully will see this form translate into test form against the Aussies. His average of 45 is second to only David Miller of players who featured more than 3 times in the tournament. The added benefit is that he can throw down a few overs as demonstrated by his 6 wickets at an economy of less than 7.
Reeza Hendricks (Cheverolet Knights)
In an underwhelming season for the Central franchise of South Africa, Reeza Hendricks was the one player who gave the fans of the Knights something to smile about. He knocked away four half centuries including a 64 not out against the Cape Cobras. He would be a solid addition to the line up.
Morne Morkel (Unlimited Titans)
Its not often that Morne outshines his older brother at T20 cricket and in truth for much of the season he didn't. But when you have a paceman bowling in the power plays and at the death regularly and he goes for less than a run a ball in T20 cricket, that is exceptional. Morne is exceptional. He took 9 wickets, comfortably less than others, but the stranglehold he puts on the batsmen leads to many of his team mates striking at the other end.
Mthokozisi Shezi (Sunfoil Dolphins)
He was only called into the Dolphins squad for the final 4 games, but he made a huge impact. Shezi took 9 wickets including four huge wickets in the Qualifier against the Titans. This left hander again showed the value of having a seamer of the left hand variety and was also economical while destructive.
Saeed Ajmal (Unlimited Titans)
If this man was South African, there will be little doubt about his inclusion in the squad. He highlights the importance of a quality spinner in any line up and when you look back at his season you can understand why. He played only 6 games but took 15 wickets at a ridiculous average of 9.26. He also featured at a miserly economy rate of 6.13. Seriously, is there any way we can get him to change allegiances?
Beuran Hendricks (Nashua Cape Cobras)
Beuran had a meteoric rise to the top of the wicket standings and finished 12 wickets ahead of the second placed wicket taker Frylinck. When you have a bowler this attacking and devastating you allow him to go for a few more runs. Many batsmen will be waking up in cold sweats when thinking of his 6/29 against the Cheverlot Knights.
Sunil Narine (Nashua Cape Cobras)
Another non-South African spinner that had an exceptional season. His six games saw him take 10 wickets at an average of 13.70 and he went for under 6 an over. It for me highlights the lack of ability in South Africa to produce high quality spinners and the lack of ability to deal with them. Take nothing away from Narine, he was desperately missed in the Ram Slam final Who was your standout player of the season?