It is another big year for South African hockey as the ongoing battle for sponsorship will continue in a year when both the field sides take on the World League before attempting to qualify for the Olympic Games. The Indoor side will also head to Germany for the Indoor Hockey World Cup, while we also have five South African players featuring in the Hockey India League (Alongside a couple of coaches too). All Things Jabu has prided ourselves in offering you something different on hockey other than the standard match reviews and previews that are sometimes plastered across Supersport and Sports 24. In the past we have shared a range of opinion pieces (Go read lessons learnt from the Malaysia series), previewed a summer (Mens Hockey braced for bumper 2015), had a inside man at the Commonwealth Games (The Rhett Diaries) and interviewed the cream of the crop of South African Hockey (Shelley Russell, Pietie Coetzee, Austin Smith and Rassie Pieterse to name a few). Here is what we have planned for the Hockey year.
Ongoing Series Reviews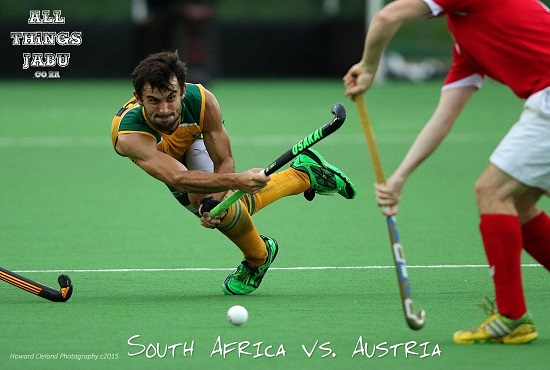 I have never been a website that just publishes match reviews. We are not a news site we are a blog. We will obviously look to publish series previews and reviews as much as possible. We want to share who we think our rising stars or world class talents are and we will continue to do this. In our recent Austria series we sang the praises of Keenan Horne, a youngster that is already making his mark with the national team. This will be something we do with both the Lads and the SA Women as much as possible. We will also share team announcements when we hear them, even if I get in trouble for jumping the gun. As proud supporters we need to know who is wearing our colours and capturing our support.
Inside the Indoor Hockey World Cup
The Indoor hockey side has never garnered much attention, but we will making sure that in a World Cup year we give them as much attention as possible. We will be profiling a few of the players as well to build that support. The most exciting part of this is that we have partnered with fellow previous Unogwaja support crew member, Robert Goslett of Enhanced Sports. Gos, as he is affectionately known, is heading over to video work (You can see his videos in our review of the Austria series) and will be writing a behind the scenes feel from Germany as our side goes in search of glory.
More quality interviews
No blog in South Africa has interviewed as many South African hockey players as we have since we have been around (we count 17 or so) and we will continue to do so as much as possible. We will continue to interview existing heroes, as well as chatting to a few of the guys that play in the Hockey India League. Of course our emerging superstars will also be subject to a Jabuview in due course. If there is anyone you specifically want us to interview, please let me know and I will make contact with them and bring you exposure to your heroes.
And now some great giveaways
This year we are going to try our best to give the hockey supporting public more chances to win. The hockey supporting public are a dedicated bunch and we want the conversation to continue. We have already lined up some great giveaways thanks to the support of players like Shelley Russell and Marcel Manson and will also continue to try and secure some great prizes. In fact our first giveaway will happen next week. As a bit of a teaser, it is new and in a preferred pink of one of our superstars!
Make sure you also give the teams love on social media as well. Here are a few of the key accounts.