The FIH World League Round 2 takes place in Cape Town from the 7th – 15th March. The competition has added importance for South Africa as the best route to Rio 2016 qualification is to finish in the Top 3 in the World League Semi-Finals (We could qualify by winning the African Qualifier tournament, but SASCOC have said this is not sufficient, although still recognised by the IOC and FIH). To qualify for that the men must finish in the top 3 at the Cape Town tournament first so that they compete in the Semi-Finals. With that in mind, Fabian Gregory had to cut his team of 25 to a squad of 18 which was not an easy task.
"We have just finished a very long training camp in Cape Town [from February 19] and indicated to the group from the outset that selection [for WLR2] would be based on form," said Gregory Tuesday.
"Everyone put their hands up and performed, so choosing the final 18 was really difficult, but the selection panel is confident that we have the players and combinations to do well at this World League tournament."
The team, currently ranked 13th in the World, will be up against China (28th), Switzerland (38th) and nemesis Egypt (21st) in Group A of the World League with Czech Republic (20th), Belarus (35th), France (18th) and Azerbaijan (31st) making up the numbers in group B.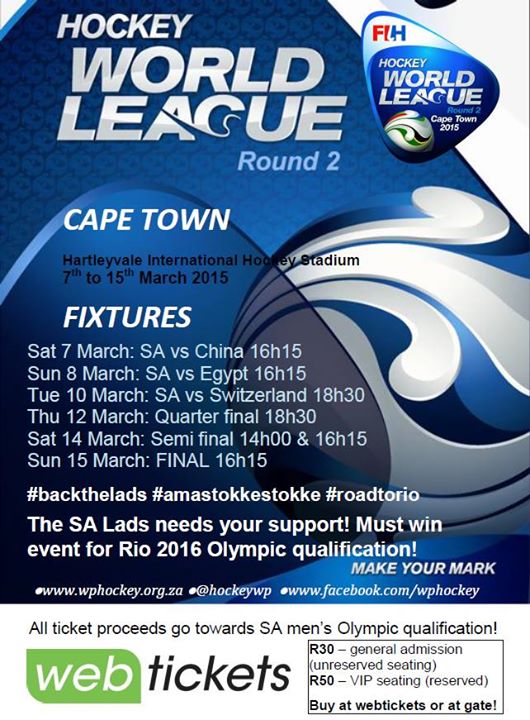 The team selected by Fabian Gregory for the challenge features a healthy mix of the experienced and upcoming players, with an average age of just 25.4 it shows a good balance in the squad and the average of 56 caps is a quality number. With Jonty Robinson being unavailable and Lloyd Norris-Jones not being selected, the other players to unluckily miss out were Ross Hetem, Brandon Panther and Mohamed Mea, who all would have been deserving had they made the final squad.
Here is the team selected to do battle, with caps in brackets.
Goalkeepers
23 – Rassie Pieterse – South Gauteng (110)
32 – Gowan Jones – KZN Coastal Raiders (22)
Defenders
2 – Daniel Bell – Western Province (7)
14 – Rhett Halkett – Western Province (118)
5 – Austin Smith (c) – Western Province (135)
8 – Dylan Swanepoel – Western Province (25)
20 – Matt Guise-Brown – Northern Blues (22)
4 – Robin Jones – Eastern Province (38)
Midfielders
17 – Dan Sibbald – KZN Coastal Raiders (16)
7 – Tim Drummond – KZN Coastal Raiders (103)
31 – Clinton Panther – South Gauteng (63)
21 – Jethro Eustice – South Gauteng (57)
Forwards
26 – Natius Malgraff – Eastern Province (36)10 – Keenan Horne – Western Province (5)
11 – Shannon Boucher – Western Province (5)
19 – Pierre de Voux – Western Province (57)
30 – Taine Paton – KZN Coastal Raiders (82)
9 – Julian Hykes – South Gauteng (107)
Management
Martin van Staden – Manager
Robert Goslett – Video Analyst / Stand-in Manager
Fabian Gregory – Head Coach
Garreth Ewing – Assistant Coach
Sally-Anne Barber – Physio